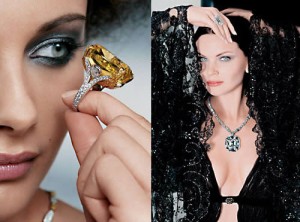 To achieve a perfect look for some formal occasions, one should not forget to add some wonderful jewelry pieces to match the dresses. Without the adornments of exquisite jewelry pieces, one will not be able to complete a perfect appearance. After all, jewelry is essential to one's beauty, as well as dress and makeup.
Generally speaking, the style of jewelry for formal occasions is better to be kept classic and elegant. Some exaggerated pieces are not suitable for formal occasions at all, although some fashionable people show great interest in them. For example, body jewelry like nose rings or eyebrow rings are never expected in formal occasions.
We all know that there is large variety of fashion jewelries available in the market. While preparing for a beautiful look, one will definitely meet a lot of choices. Then, it is necessary to choose the suitable color, material, design and style. Usually, some classic pieces are perfect for formal occasions, such as, pearl necklaces.
What's more, one should keep in mind that never wears too many pieces at the same time in formal occasions. It is better to wear a simple necklace or a bracelet. Adding an excess of jewelry pieces to the outfit may leave a bad impression on others.
In a formal occasion, one will definitely want to achieve classic and elegant look. Besides the dress, the jewelry can also enhance one's perfect look in a wonderful way.