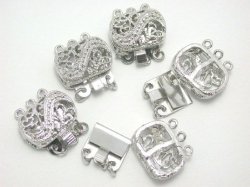 Admittedly, jewelry making is t he newest trend in the fashion world. People are attracted by the amazing handmade jewelry pieces. Thus, most of them follow this hot trend to create their unique jewelry. In the street, it is very easy to meet people with fancy handmade pieces.
It is quite easy to complete a piece of jewelry by hand. With enough materials and imagination, anyone can design a perfect piece. Generally, beads, cord or thread, clasps, and findings are essential jewelry making supplies.
There are different items that people can choose to make, such as, earrings, necklaces, brooches, bracelets, rings and hair accessories etc. With so many choices, necklaces and bracelets are the most preferred types among people. If one is planning to create a necklace or a bracelet, jewelry clasps are needed.
Jewelry clasps can do great help to complete necklaces and bracelets. They are designed to connect the different ends of a necklace or bracelet together. In the market, we can easily get a large collection of clasps. They are available in various colors, shapes, designs and styles. For example, we can get magnetic clasps, box clasps, strand clasps, lobster clasps, toggle clasps, and hook clasps for our jewelry designs.
The clasps not only make contribution to design perfect jewelries, but also make it easier for people to wear jewelries. So, if you are preparing jewelry supplies, you should pay enough attention to various clasps, as well as loose beads.
Cheap Beads Create Wonderful Jewelry Designs