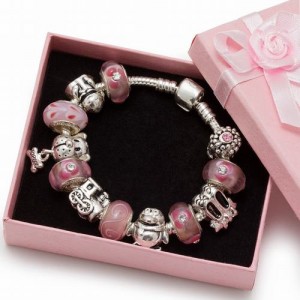 As the most fashionable jewelry, European charm beads are accepted by more and more people. One of the most important reasons is that people can select, collocate, and combine jewelry freely, just follow their own favorite color, shade, style, and feeling. People could have their own colorful and magnificent jewelry by combining these loose beads.
This form fully meets people's desire to express personality. People can combine different kinds of beads, gemstones and pendants according to their own interest. In addition, making jewelry yourself can possess a more connotative meaning. You select the beads carefully which can most represent your feeling. If pondering the inner meaning among it, you will enjoy a special pleasure.
What's more, another distinguishing feature of European charm jewelry is the different type of materials. The use of various kinds of new materials constantly challenged the vision of people. One critic used said: Jewelry could be very formal or informal, free and interesting or romantic and fashionable. European charm jewelry is the follower of such idea, it does not expect lampwork glass, ceramics, enamel to replace the diamond and gold, but the breakthrough and enlightenment that European charm beads brings to jewelry industry should arouse people's attention.
European charm beads brings not only the various shapes and colors, but also the thoughts and ideas. It is said that each small object of European charm jewelry has a special meaning. Let's see it:
Small plane: travel and exploration;
Anchor: stability and hope;
Baby's little boots: many children;
Small feeding-bottle: rich in food;
Bird's nest: a happy family;
Ship: calm and confidence?
Church: the joy and stability of marriage;
Dragoy: wealth.