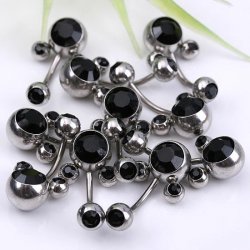 Since the ancient times, it was very common to have ear piercing for girls. They were fond of wearing different kinds of earrings to add beauty to themselves. Now, there comes a new fashion trend, navel or belly button piercing begin to replace the ear piercing and becomes the most popular body piercing. Thousands of girls have navel piercing to catch up the latest trend, and you can even notice that some boys also wear navel rings.
It first appears in a fashion show in the 1990s. After that, it is accepted by more and more people, and has gained prominence in body jewelry recently. There are various reasons for people to wear navel rings. Some believe it is a good way to highlight them and catch others' insight. Others may under the intention that navel rings can do help to exhibit their sensuality. And even some people have a navel piercing simply for the reason to follow the latest fashion trend.
Navel rings can conveys a lot of useful information, such as, your personality, or your style statement. And like all other fashion jewelry, belly button rings also come in various styles, colors and materials. You can have gold belly button rings, dangling belly button rings and cheap diamond navel rings. And the common materials used for them are often surgical steel, solid 14K gold, silver, titanium and other metals. Many online wholesale jewelry supplies offer plentiful navel rings and other body jewelry. You can search the Internet and find a large collection.
However, if you are wearing navel ring the first time, you should be careful of infection. Never ignore this important aspect, or it is possible for you to infect hepatitis, HIV, and other serious disease. I have to advice you to wear a carved barbell before your piercing get healed. Then, you will be able to wear beautiful and seductive navel rings.