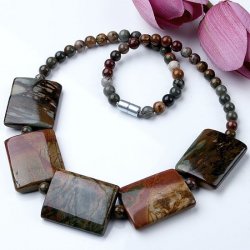 Would you like to create exclusive jewelry pieces by hand? If Yes, I want to share some useful information with you. If you are eager to get unique jewelry pieces, I strongly suggest you consider gemstone necklaces.
After you make the decision to create gemstone necklaces for yourself and friends, you need to make a full preparation of jewelry making supplies. For designing perfect gemstone necklaces, gemstone beads, cord or thread, clasps, and jewelry findings are needed.
When it comes to the choice of gemstone beads, it is not easy to make the final decision. We all know that gemstone beads are well known for its multiple materials, including azurite, peridot, labradorite, goldstone, amazonite, tiger eye, aventurine, opal opalite, garnet, etc. With so many choices, people may not sure what the perfect one for making pendants. In fact, people can choose any one that appeal to them, for all these fine minerals and stones are suitable to create wonderful pendants.
Then, it is important to choose the right stringing styles for your desired jewelry pieces. If the beads you choose have small holes, it is better to string them with thread or wire, while the big holes require cord.
For perfect gemstone pendants, there is another important aspect that people can't ignore. That's jewelry clasps. Adding clasps to the jewelry designs can make the pieces appear more beautiful and charming. In the market, jewelry clasps are available in different styles, such as, magnetic clasps, lobster clasps, hook clasps, and toggle clasps etc. Be careful to choose the most suitable one.
At last, people can add some findings to their jewelry making, such as, spacers, or charms. They can add great glamour to the handmade pieces.