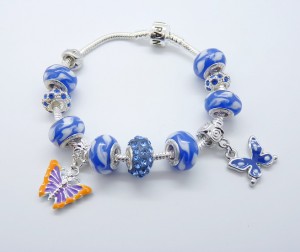 It is obviously that European charm beads are the most beautiful and charming beads in the market. They even lead a fashion trend in jewelry making, and many people choose European charm beads to create their unique fashion jewelry to show their individuality. European charm beads are available in various materials, ranging from sterling silver to crystal glass, which need careful protection to maintain their beautiful.
It is very important to keep European charm beads from any harsh chemicals. If you wear a sterling silver European charm bracelet, remember to take it off when you are going to swim. Or this will leads the silver to tarnish and turn a brownish color. When putting on makeup, you also need be careful. Perfume can also cause the same results to European charm beads.
Even having a bathe, it is still necessary to remove your European charm jewelry. Or it will lose luster and lessen its beautiful and charm. What's more, it is better to do housework without your European beads jewelry. Then avoid accidental collision to damage the European charm beads.
Besides these matters need attention, cleaning also plays an important role in the protection of European charm beads. You can put your beads or even bracelet into a small glass with dish soap or hand soap water. They water should be enough to cover all the beads. Rinse for a minute and brush the beads gently with a children's soft toothbrush. Then, rinse with cold, clean water. At last, dry with a soft cloth.