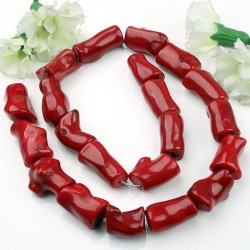 Nowadays, more and more people follow the hot trend of jewelry, and start to create their own jewelry pieces by hand. Jewelry making is really a funny and rewarding process. However, some beginners may worry about what kind of beads is better. If you have no good idea about your jewelry making project, I suggest you consider coral beads.
Coral beads, one of the oldest beads for jewelry producing, are widely used in designing all kinds of fashion accessories, such as, earrings, necklaces, and bracelets. While looking into the market, it is easy to get a large variety of coral beads in different colors, sizes, shapes, designs and styles. So, jewelry makers can choose their favorite one for jewelry making.
Red, pink, olive, blue are several common colors of coral beads, and the red ones are the most preferred one among people. Many women show great interest in jewelry pieces made of red coral beads. At the same time, as well as pearls beads or shell beads, coral beads come in various shapes, like round, oval, rice, button, rectangle, and teardrop etc.
People can complete jewelry designs only with coral beads. Meanwhile, it is a good idea to mix the coral beads with other loose beads together. For example, one can match coral beads with shell beads or crystal glass beads to create a necklace or a bracelet. Sometimes, jewelry makers are willing to add some special spacers or charms to coral beads.
Still searching for beads for your jewelry making? Why not consider coral beads? It is sure a good idea to create wonderful jewelry pieces with these impressive beads. Jewelry makers can buy them from local craft stores, or online beads stores. Well, most people would prefer to online stores for the great discounts and free shipping. After deciding to get coral beads for jewelry designs, one can find a reliable online supplier to buy what needed.