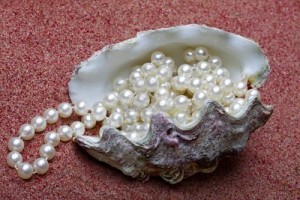 You definitely hear about Akoya pearls and Freshwater pearls if you're hunting for pearls fashion jewelry, you might be curious the differences between them.
Firstly, though Akoya Pearls and Freshwater Pearls are cultured pearls, Akoya Pearls are cultivated in saltwater, as the name implies, Freshwater Pearls are cultivated in freshwater.
Secondly, obviously, Akoya Pearls mainly come in round shape. They're nucleated with the spherical bead produced from the freshwater mussel which is made round to start with, which are "beaded" pearls. However, in addition to round shape, Freshwater pearls come in lots of other different shapes. They are "beadless" and mantle-developed in shells.
Thirdly, freshwater pearls are more affordable, and Akoya pearls always are more costly. As you know, it is easy
to cultivate freshwater pearls, but it is much difficult to grow the akoya pearls. People easily control the freshwater environment that is always man-made developed, but they can't control the saltwater environment which is easily iuenced by the natural disaster
Fourthly, freshwater pearls jewelry has much less luster than the top grade Akoya pearls jewelry, you may already know, the grade is better, the surface of Akoya pearl is luster.
Last but not least, the pearl growing in Freshwater has solid nacre which means freshwater peal jewelry can
be maintained longer. Inversely, Akoya pearl is usually allowed to grow the nacre for short time, which leads to the thin nacre of Akoya pearl. The grade is lower; the nacre of the pearl is thinner.
There are just the basic differences, if you're familiar with Akoya saltwater pearls and Freshwater pearls, you'll find the other more differences between both of them.
Freshwater Pearls