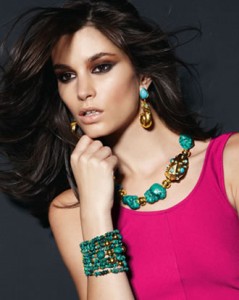 Beads can be one of the oldest materials for jewelry designs. Today, beaded jewelry is still a popular trend in the market. Many women are willing to wear jewelry pieces made of beads. When it comes to the beaded jewelry, there are many various kinds of beads available in all colors, sizes, shapes, and materials.
Since beads are the foundation of all jewelry making supplies, it is quite important to make the choice. While looking into the market, we can find beads made of various materials, such as, sterling silver, gemstone, Tibetan silver, crystal glass, lampwork glass, dichroic glass, howlite turquoise, rhinestone, metal, and polymer clay etc. Thus, people should choose the right kind on the basis of their desired jewelry designs.
These days, it is a hot trend to design jewelry pieces with loose beads. And jewelry making is really an interesting and rewarding activity, which can bring many amazing effects to people. Meanwhile, it is a great way to express one's personality. No wonder that more and more people start to create their own beaded jewelry by hand.
Beads for jewelry making can be bought from both online and offline stores. Well, online stores are better than offline stores, which will allow people to get the most suitable beads. When take a look into the market, it is very easy to find thousands of online stores offer various kinds of jewelry beads. With the wide selection, people will definitely get the suitable beads for perfect jewelry designs.