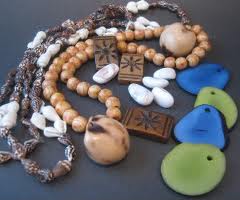 There are many kinds of natural beads which are also referred to as organic beads, such as shell beads, bone beads, wood beads, garnets beads, gold stone beads, crystal beads, amethyst beads, rose quartz beads, coral beads, agate beads, Amazonite beads, jasper beads, obsidian beads, serpentine beads and many other natural loose beads.
As the Natural finest works of art, natural beads can be found in a lot of shapes, patterns and colors.Currently, natural beads are very popular to be used as ornaments to adorn the bags, clothing, lobby, windowsill, furniture, etc, the gorgeous patterns and styles of the natural beads increase elegance for the overall look. However, the common use of natural beads is to produce the beaded jewelry pieces.
Natural be ads have turn out to be the important component of modern jewelry; they have widely been utilized to design jewelry for every age groups. In local or online jewelry stores, you can find the different natural beads pendants for men and women, and you also can find the natural beads bracelets or necklaces strand for children or adults. You even can pick up the natural beads based on your desire, and then ask the craftsmanship to make the custom jewelry. Initially, natural beads are treated by handwork, which easily attract persons with their amazing and unique artwork. Today, plenty of modern equipment are already put into use in jewelry making, all the beads are processed into the same shapes and patterns, though they are still bright and colorful, they are not unique any more. Therefore until now, the precious natural beads are still mainly enhanced by craftsmanship.Needless to say, most people enjoy wearing the unique jewelry which will very easily catch public attention!