Compared with men, women experience a lot of fun, especially young girls. It is fun to wear beautiful dress and high-heeled shoes to show the fine body shape. It is interesting to appear difference with the eye shadow and nail art. Besides, the fashion jewelry also brings a lot of fun to women. Adding beautiful and gorgeous jewelry pieces can enhance women's personal style in an amazing way.
When you take a look into the market, it is easy to meet a large collection of fashion jewelries, including earrings, necklaces, pendants, brooches, bracelets, rings, and so on. As long as you keep a watchful eye on them, you will certainly discover a lot of fun. For example, there are many interesting facts about jewelry pieces made of cheap beads.
Gemstone Jewelry
This kind of jewelry is made of gemstone beads, which come in a large variety of materials, such as, azurite, peridot, obsidian, garnet, lapis lazuli, amethyst, quartz, goldstone, fluorite, and so on. These fine minerals and stones easily attract many people's attention. However, the most interesting part of gemstone beads lies on its relation with people's birthday and constellation. For example, the amethyst is the guardian stone of Aries, while the peridot is the birthday stone for people who born in August.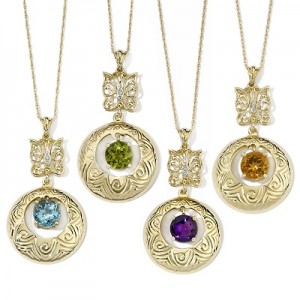 Tibetan Silver Jewelry
Tibetan silver, one kind of materials similar to sterling silver, has been widely used in jewelry making. They can be used as jewelry beads to design necklaces or bracelets, or applied as spacer beads to work together with other beads. Well, its unique designs bring a lot fun for women. In the market, we can find Tibetan silver beads come in many fancy styles, such as, London bus, chef's hat, gear wheel, smile face, and different kinds of animals like golden fish, owl, snake, etc.